In pursuit of a healthier and more sustainable future
We believe that sustainability is a natural outcome when human-centered design is the priority. Our team is committed to environmental issues and creating solutions that address modern challenges while securing a healthy and resilient future for generations to come.
Contributors:
Molly Alspaugh, WELL AP, IIDA, ASID, NCIDQ, EDAC, LEED AP BD+C – Senior Interior Design Manager
Jordan Fay, AIA, NCARB, LEED® AP BD+C – Project Manager
Tara Myers, AIA, NCARB, EDAC, LEED® AP BD+C – Principal
Eric Sheffer, LEED® AP BD+C, O+M, ISSP-SA – Principal, Smith Seckman Reid, Inc. (SSR)
Sustainable and wellness design is simply good design.
Creating healthy and resilient environments that improve quality of life and stewardship of the natural environment and its resources is the core of ESa's design philosophy. Our teams follow this same approach, regardless of sector, to provide healthcare, hospitality, educational and commercial office spaces that positively affect people and their community at large.
ESa proactively supports community outreach efforts and engages in change-effecting community projects and initiatives. An AIA Materials Pledge signatory firm, we are cognizant of and committed to the many avenues environmental stewardship takes, from material and product selection to the highest-level master planning decisions.
Our design teams incorporate the principles of sustainable design into our projects, meeting high-performance standards and integrating best practices. We utilize our experience and knowledge in sustainable design coupled with many other design tools, which benefit our clients and projects.

We proactively integrate sustainability into our building designs by driving a process, which integrates analysis and data-driven results:
Building and performance modeling:
Shaping the building mass
Orientation of buildings and spaces
Cladding, glazing, insulation, and roofing
Mechanical equipment sizing/types
Collaborate with like-minded engineering firms, with proven track records of sustainable design
Hygrothermal modeling (WUFI studies) to control condensation in wall cavities
Life-cycle costs both early and often
Energy-saving features:
LED lighting
Occupancy sensors
Daylighting technology
Low-voltage override switches
ROI study for fixtures and systems
Water efficient fixture selection and design encouraging water reuse and efficient plumbing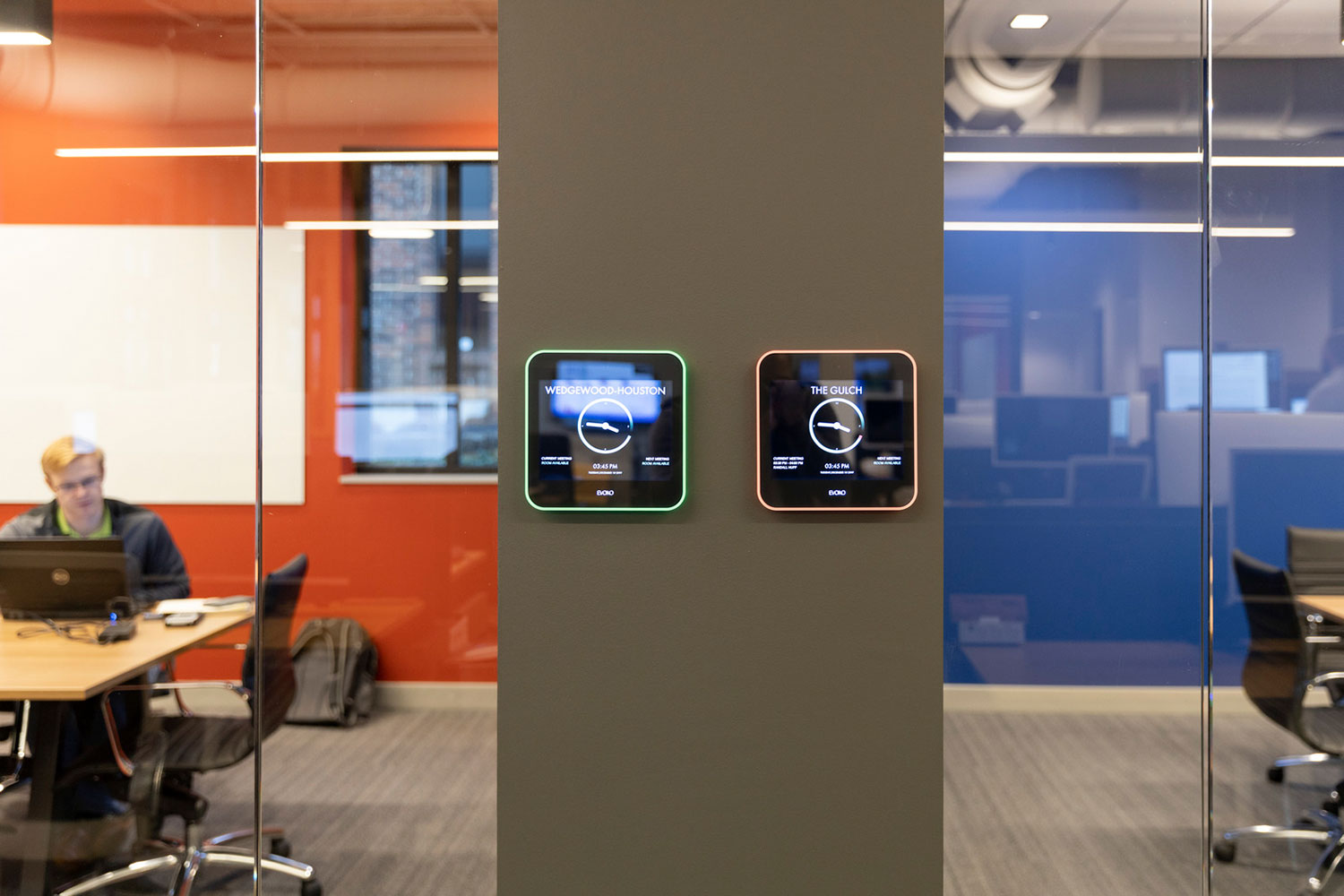 Interior materials and furnishings promoting occupant health and value for the owner:
Use of HPD, EPD, C2C, Declare metrics to select products/manufacturers
Daylighting design for best productivity
Use of acoustical finishes and systems
Applying Biophilic Design principles to lower stress level of occupants
Low volatile organic compounds (VOC) paints and coatings
Life-cycle/replacement cost analysis
Formaldehyde-free/FSC wood in casework
Avoiding the use of vinyl materials
Smart window treatments that save energy
Materials/details that are easily maintained
Modular, flexible furniture/equipment
Mock-ups that provide owners with broader evaluation opportunities
Building rating system and evidence-based expertise maximizing project and operational investment:
ESa has many LEED, WELL and EDAC Accredited professionals on staff
Knowledge of the WELL Health and Safety Rating System to address pandemic concerns
EDAC (evidence-based) targeted content research to achieve measurable improvement in end-user experiences, health, safety as well as operational efficiencies
ESa can offer rating system CEU sessions to owner facility professionals for learning credit hours
Constant sharing of new knowledge and partnering with consultants for better outcomes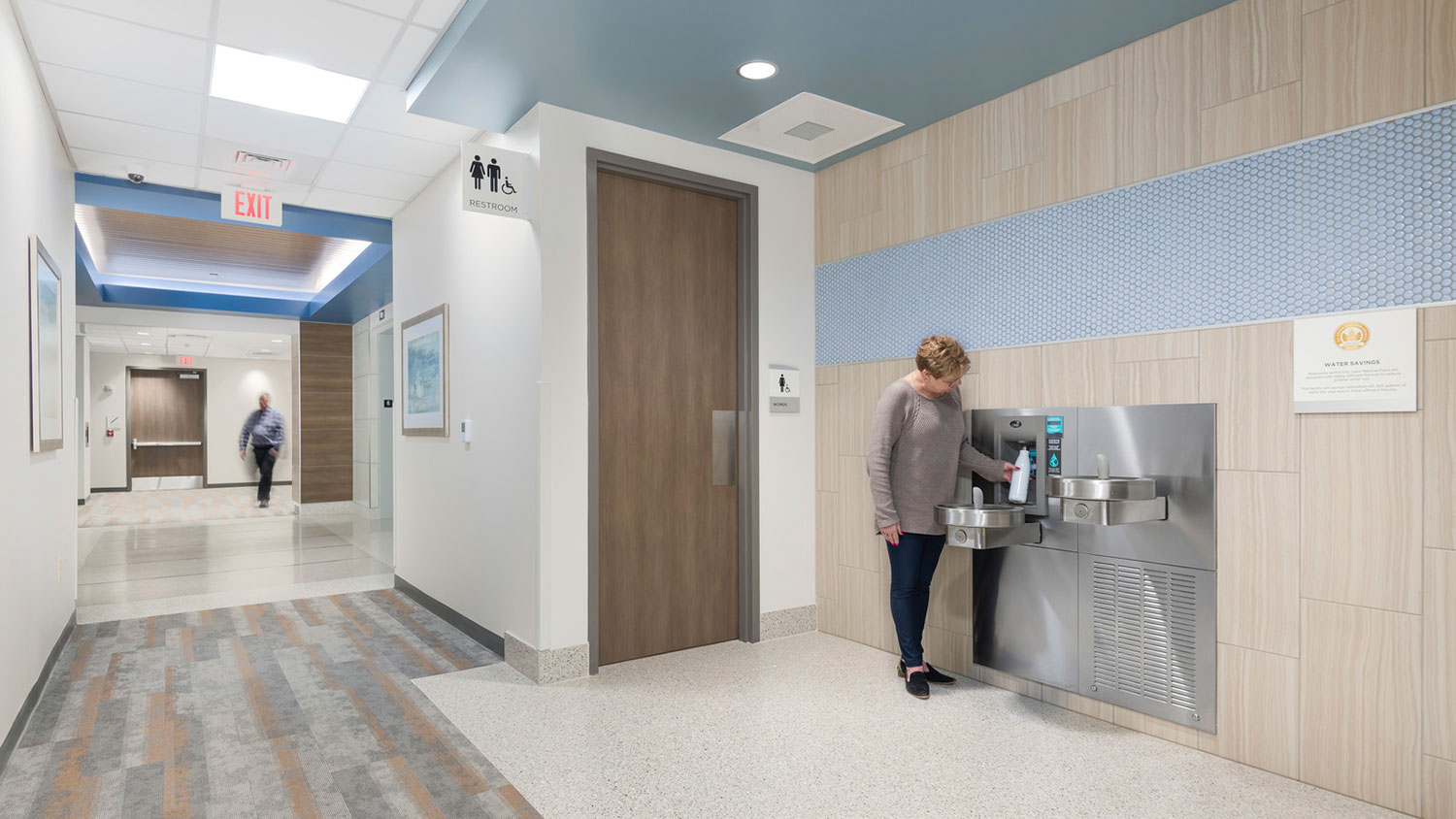 Regenerative design approaches:
Holistic approach to project's integration in nature
Studying project context in it local habitat
Creating solutions drawing on natural systems
Designing to 'give back' to nature through clean energy and water conservation programs
Integrating the local community to maximize campus/building usage
Educating the public about the use of these principles in their community's project
ESG (Environment/Social/Governance):
A developing global model for measuring project planning that maximizes the protection of people and   the planet
Encourages methods that improve environmental conservation, expand social equity and promote transparency, fairness and compliance
ESa is engaging the worldwide design community to understand and apply this advancing topic to projects
We have an obligation to future generations to create healthy environments.
ESa is proud to continue to live up to the words of our founder, Earl Swensson, FAIA, as we continue to pursue designs that enrich the lives of people and protect the environment. Our LEED certified projects alone account for more than 6.2 million square feet and $1.2 billion in construction value. These figures do not include projects that, while incorporating high levels of sustainable design, did not pursue formal certification with LEED or that follow other benchmarking rating systems. Regardless whether or not a certification is pursued, ESa advocates for the integration of sustainable, regenerative and equitable design practices that fully capture a human-centered approach. We also focus on wellness and productivity design that supports the client's vision. Our design approach has long embraced the key goal of supporting healing, safety and wellness while striving for optimal performance and flexibility.
We team with specialty consultants, including sustainability and commissioning specialists SSRCx. Working closely with our design team, SSRCx collaborates to develop environments that promotes health, carbon and water reduction, social wellness, effective life cycle costs, among other important factors to our clients. This is achieved both through the pursuit of LEED and other certifications, but also through the general integration of sustainable design elements.
Examples of projects that embody these core values include:
LEED Platinum Certified (First LEED Platinum for new construction, education project in TN)
The facility houses the College of Arts and Sciences, the College of Sciences and Mathematics, and the School of Religion. A five-level underground parking garage provides approximately 430 parking spaces and connects on three floors to both the Inman Center and McWhorter Hall. The center includes a 300-seat chapel, dining options, 30 classrooms that vary in seating capacity from 24–72 seats, laboratories, faculty offices and conference room space. Sustainable features include an underground parking garage to reduce the urban heat island effect and preserve green space, charging stations and parking spaces for car pools, van pools and fuel efficient and low emitting vehicles along with educational and sustainable green roofs. Additionally, there are high-efficiency plumbing fixtures to optimize water savings at an estimated rate of 200 kGal each year, LED lighting which will drastically reduce energy usage, an active chilled beam system that reduces heating and cooling energy and is one of the only HVAC systems of its kind in Nashville. An irrigation system collects water run-off in underground tanks, comparable in size to Olympic size swimming pools, that is re-used for irrigation and water feature purposes.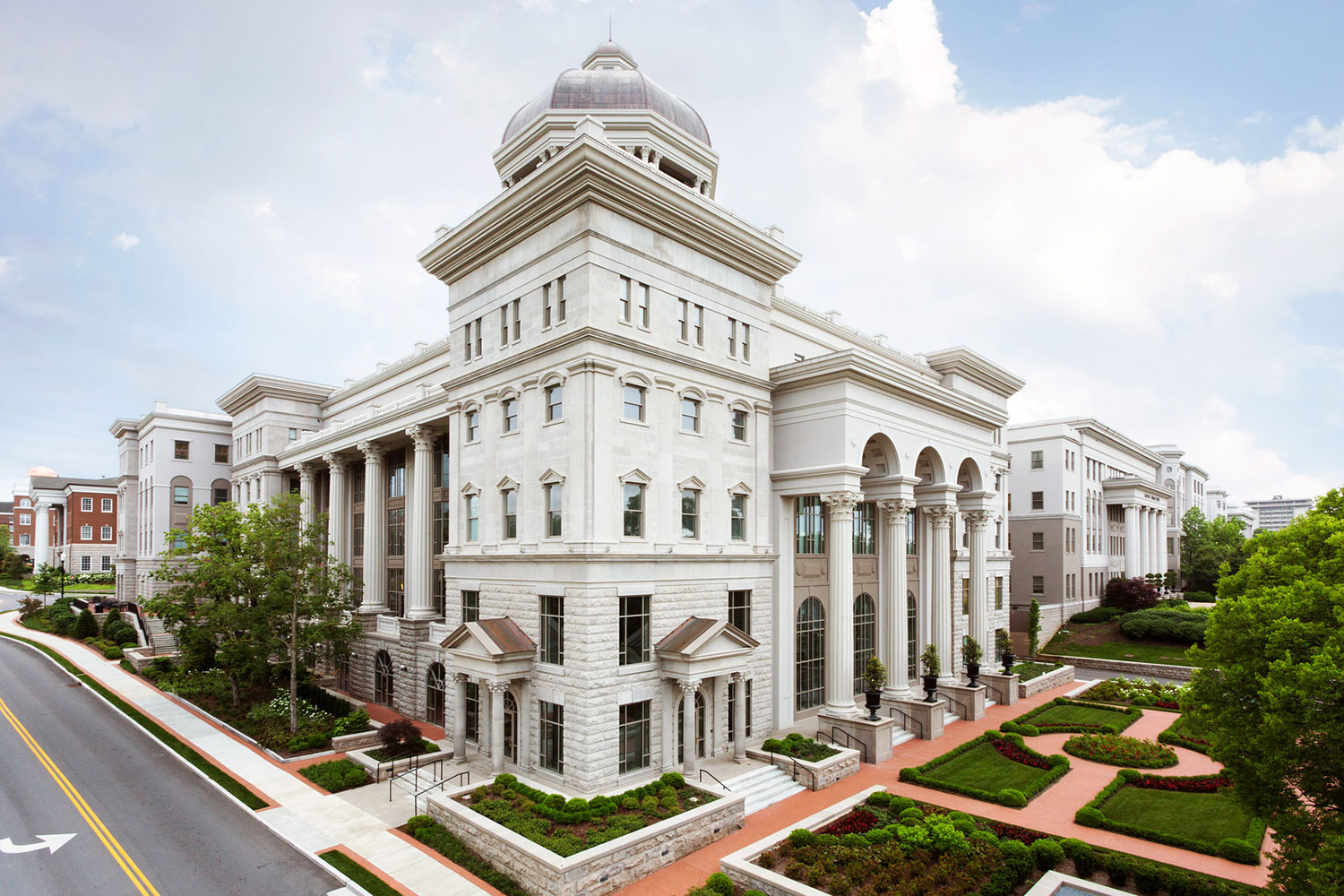 LEED Certified
WELL Platinum Certified (first in Tennessee)
WELL Health-Safety Rating certified
Both LEED® certified and WELL Platinum certified, the design of this nationally recognized commercial general contractor and construction management firm's Nashville office demonstrates an investment in the health of its occupants. Implementing WELL Building and sustainable design elements like abundant natural light, a wellness room with a daylighting system, sit-to-stand desks and natural wood from responsible sources, the design team utilized creative solutions to infuse DPR Construction's brand with a Nashville vibe.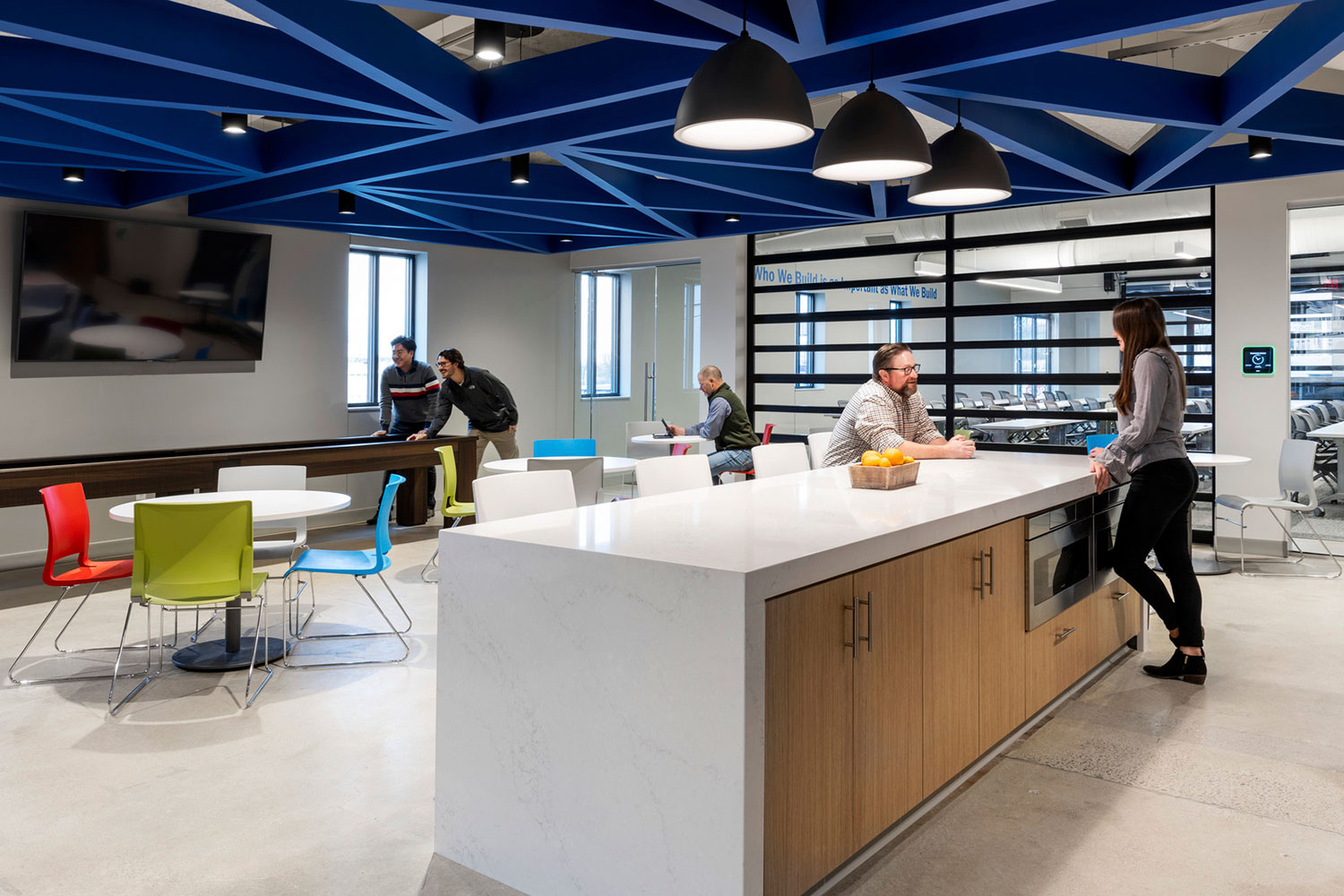 State of Tennessee High Performance Building Requirements
Serving one of the state's most visited parks, this two-and-one-half-story new lodge features a modern interpretation of rustic elements that draws inspiration from the beauty of Tennessee's natural landscape. It is located on the existing site to maintain undisturbed land in the surrounding area. Utilization of green design principles and durable, low maintenance materials promotes sustainability and resiliency. Exterior cladding mimics the shadowy coloration of a forest and is accented with composite-material resembling sapwood bark. Incorporating the use of solar shading, sustainable materials, reduced water usage and habitat-restoring landscaping, the lodge is designed to meet the State of Tennessee's High Performance Building Requirements and is intended to function 19% more efficiently than energy code requirements.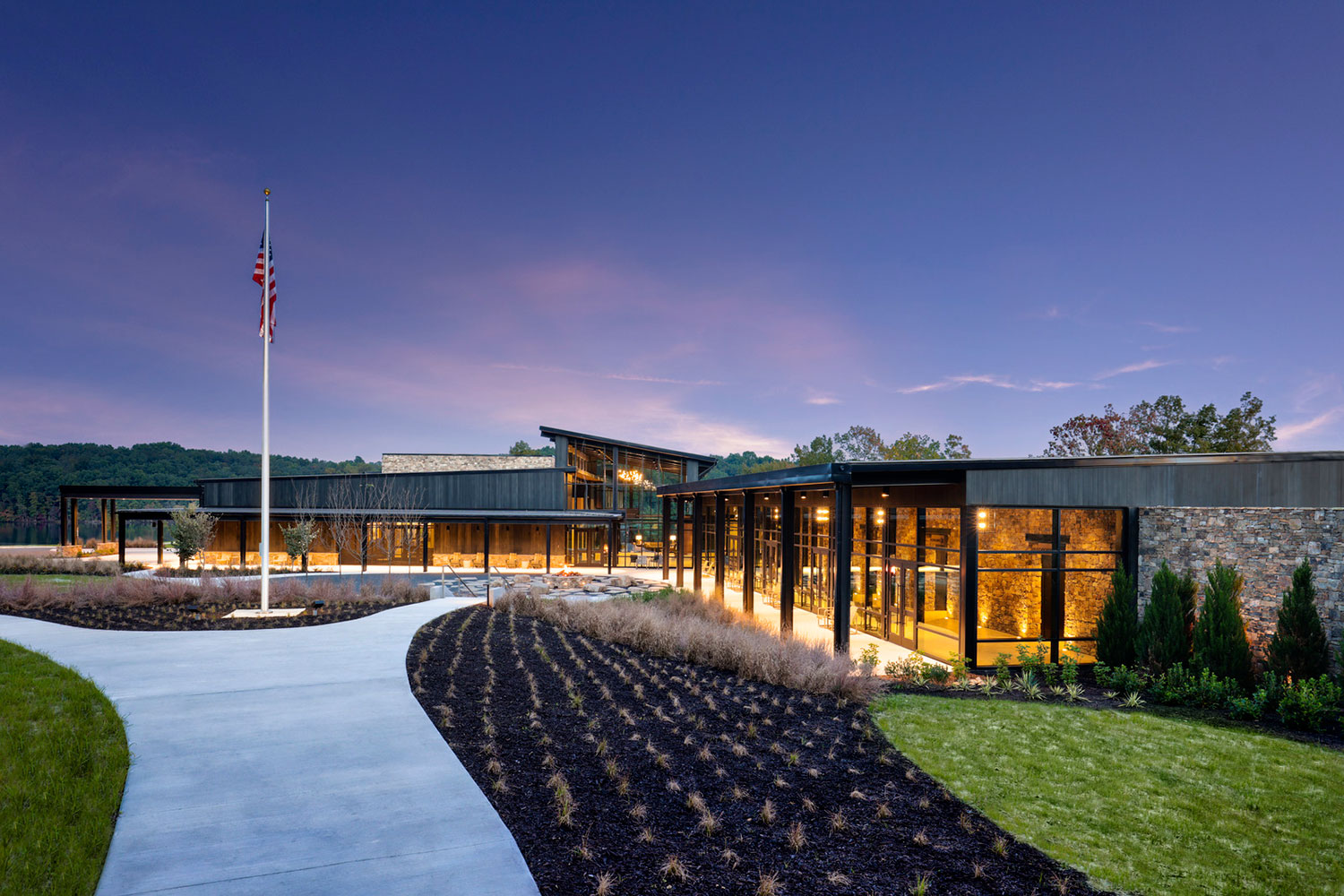 LEED Gold Certified 
Healthy Places Award, 2017 ULI Nashville Excellence in Development
8 C1TY BLVD Medical Office Building (MOB) is the first building to be constructed on the campus and attained LEED® Gold Certification. The facility includes a green roof terrace and multiple plazas for tenant and public use. Ground level retail space will front the building with access from the street, public plaza and building lobby. The vision for the oneC1TY campus is to create a sustainable community for mindful living.

LEED Platinum Certified
USGBC TN Impact Tennessee Award, Winner of Innovative Design, Interiors
For the past 30 years, ESa's corporate offices were scattered on several different floors in a nearby location. The firm seized the rare opportunity to create a new, more efficient space better representing the unique team and family-oriented culture. Guided by the firm's core values – Drive, Loyalty, Attitude and Humility –  the 50,000 square foot space is consolidated into two floors. A welcoming lobby with sweeping views of the city's skyline overlooks an open stair, which encourages physical activity and collaboration between floors. An adjacent "Plaza" acts as the firm's family room. A large kitchen, dining area and soft seating provides space that employees utilize throughout the day. Just below, a flexible conference center incorporating magnetic white boards and touch screen technology is designed to support meetings of all sizes, from two to more than 200 participants. Offices are pushed to the core to maximize views and natural light, while motorized shades are incorporated on the windows, as are lighting and occupancy sensors. Employees also have access to sit-stand desks and other ergonomic office features.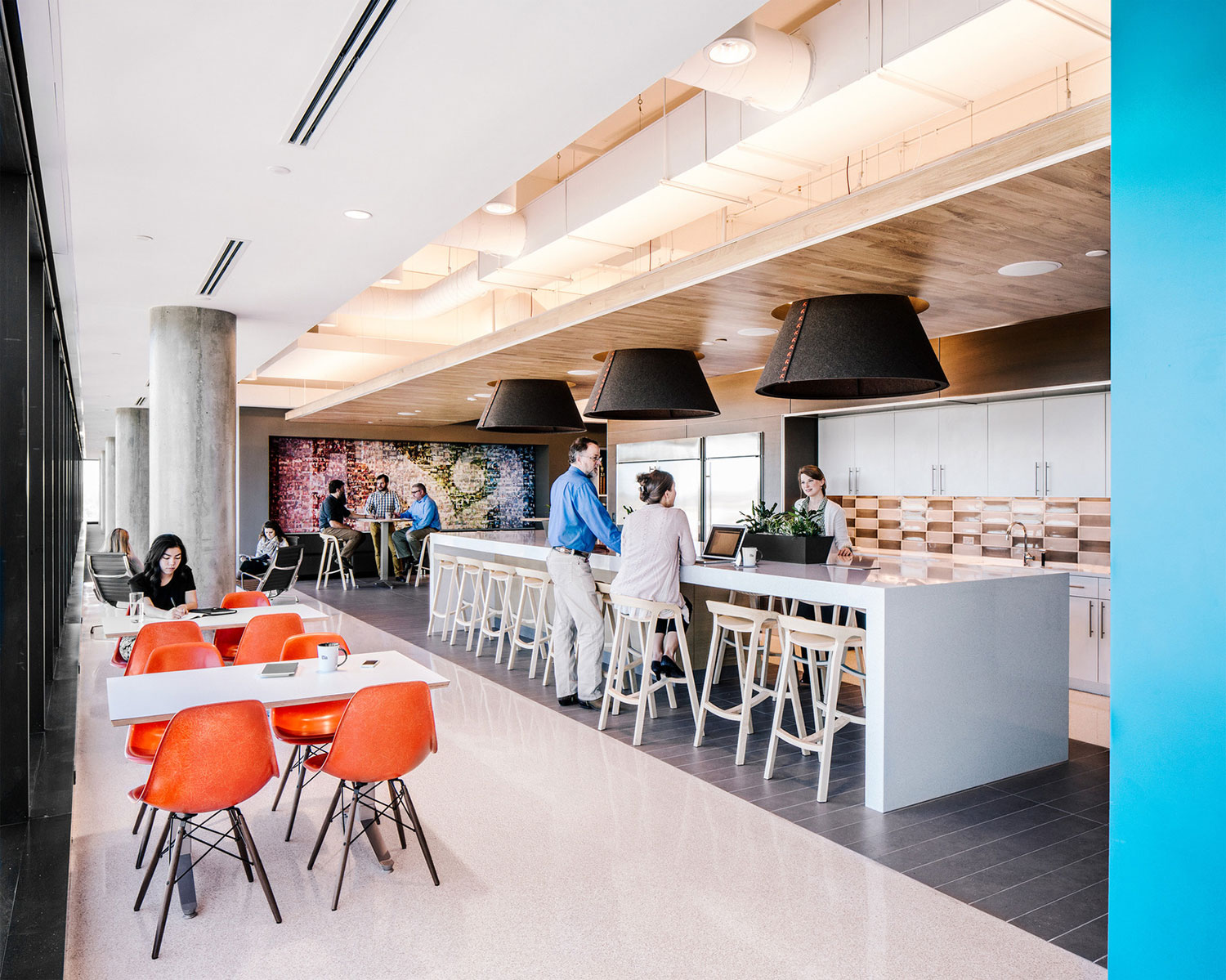 St. David's North Austin Medical Center
Designed to meet Austin Energy Green Building (AEGB) standards
This healthcare project was designed with unique city mandated guidelines from Austin Energy. ESa designed the project to meet the city's planning requirements that were similar to LEED requirements, but unique to the city's concerns. Material standards such as Health Product Declarations (HPDs) and Environmental Product Declarations (EPDs) were employed to choose products that met city requirements for healthier materials, better indoor air quality and environmentally responsible manufacturing. Our team supported the project's required educational outreach efforts and partnered with the construction manager's worker equity focus. We streamlined the digital review process with the city to electronically verify submittals and remotely coordinate construction review to supplement in person project site evaluations.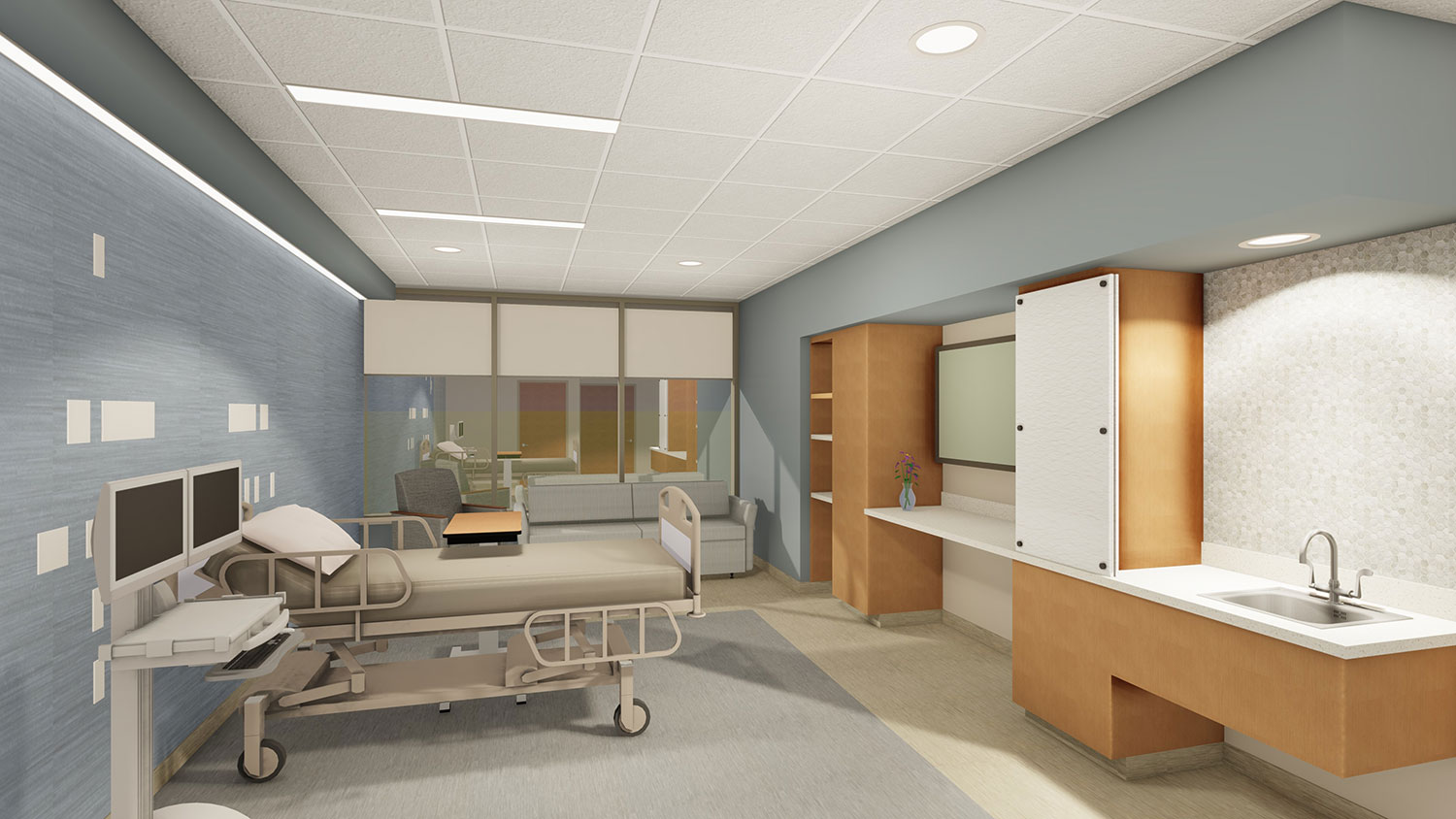 LEED Gold Certified
Part of the Baptist Health System, and located on the Brooks City Base, formerly Brooks Air Force Base, the Mission Trail Baptist Hospital project team decided to study sustainable design and construction during the design phase of the project. After a rigorous study period, the collaborative project team recognized that pursing several sustainability goals and LEED certification would fit well within the design and construction standards and Owner's goals for the project. The hospital is LEED Gold certified, one of the first acute hospitals certified within the state of TX. The hospital was designed to save upwards of $150,000 in annual energy costs and over 1,100,000 gallons of potable water per year.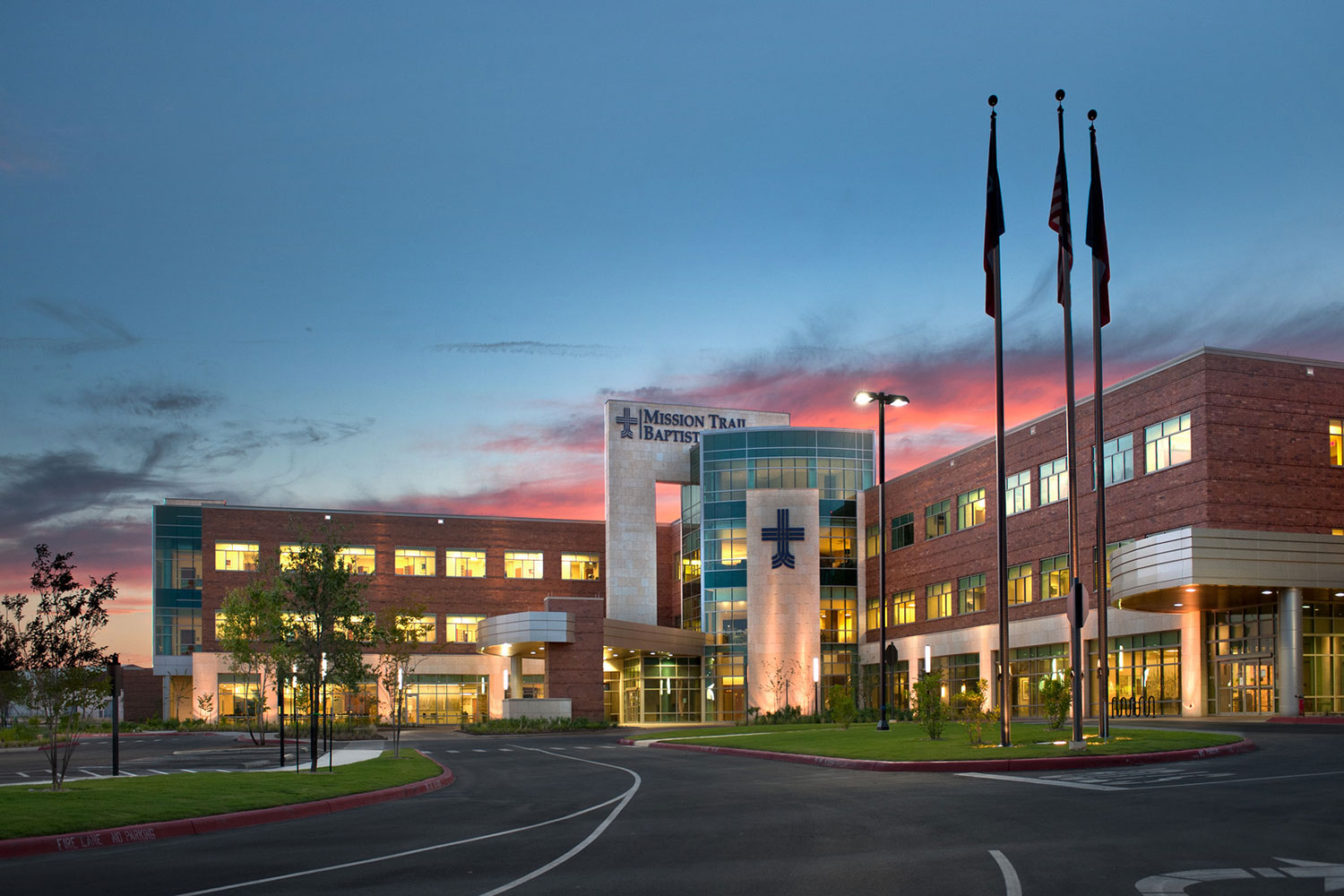 Looking to the future of wellness and the challenges we face.
Emerging challenges of our time require a continued focus on environmental and wellness initiatives. In an effort to elevate our entire firm with new ideas and current resources, ESa provides ongoing sustainability and wellness education for our employees. This includes information on environmental, social and energy codes and how they impact the built environment through design.
An example of ESa's design teams looking into the wellness for the future generation is the "Oasis conservatory research study, how can architecture help improve our mental health crisis?" The study acknowledges the growing mental health crisis of our time, prescribes architectural solutions to ease these factors, including the integration of biophilic design, illustrates the benefits of these solutions and charts a future of design that takes mental health into consideration.
Since our founding, research has informed our practice. As thought leaders, we explore current and future issues in order to guide our clients, profession and community in a proactive and beneficial fashion. Architecture is not just about constructing buildings, it is creating environments. It is also about leadership. We aim to confront issues to improve our lives and society's interaction with one another.
On all fronts, the challenges we face require innovative solutions, and we are moving forward together to create environments that shape and enrich the lives of people and the planet.
Thank you to all who contributed to this article. For information about ESa and sustainability click here.