Future of (remote) Work
Part of a larger series that looks at the impact of the COVID-19 pandemic, we sat down with Senior Interior Design Manager of 10 years, Kearra Barkley, to discuss the changes we have seen to corporate office spaces, her approach to dealing with the challenges of remote work and possible trends emerging in a post-pandemic world.
What was it like to work and design during a global pandemic? What challenges did you and your team face and how did you all adjust to meet the new reality?
In the face of COVID, the team went to nearly a one-hundred percent digital workflow. We were somewhat digital and paperless before but the needs of the pandemic mandated, especially early on, that we adjust and move more fully towards a hybrid model.
Specific to interior design, we deal with many physical materials and this was the main challenge. Interior finish presentations, in which member of our team sits down with the owner and stakeholders to review each and every finish that is going into the project, had previously taken place in-person and were now in question due to COVID restrictions. We had to ask ourselves if clients would be willing to approve finishes digitally, which was an odd ask considering that our interior design team will typically not approve something without a physical sample of the material.
There have also been issues related to the supply chain and the availability of samples along with certain materials. Shipping delays and confusion about where to send samples, to our team's homes or to the office, meant we had to work through a way to work with physical samples and materials without compromising on safety.
Personally, I have not had many issues moving to a hybrid workflow. Our team had some experience with remote work, and the firm was well equipped to support a fast and relatively seamless transition to working from home. As COVID has continued, we have found a better blend of in-person and remote work. I see a lot of potential with this format moving forward. Of course, things like finish presentations need to take place in person, and our team works to maximize safety and comfortability for the client, but other day-to-day meetings can easily and more efficiently be handled remotely.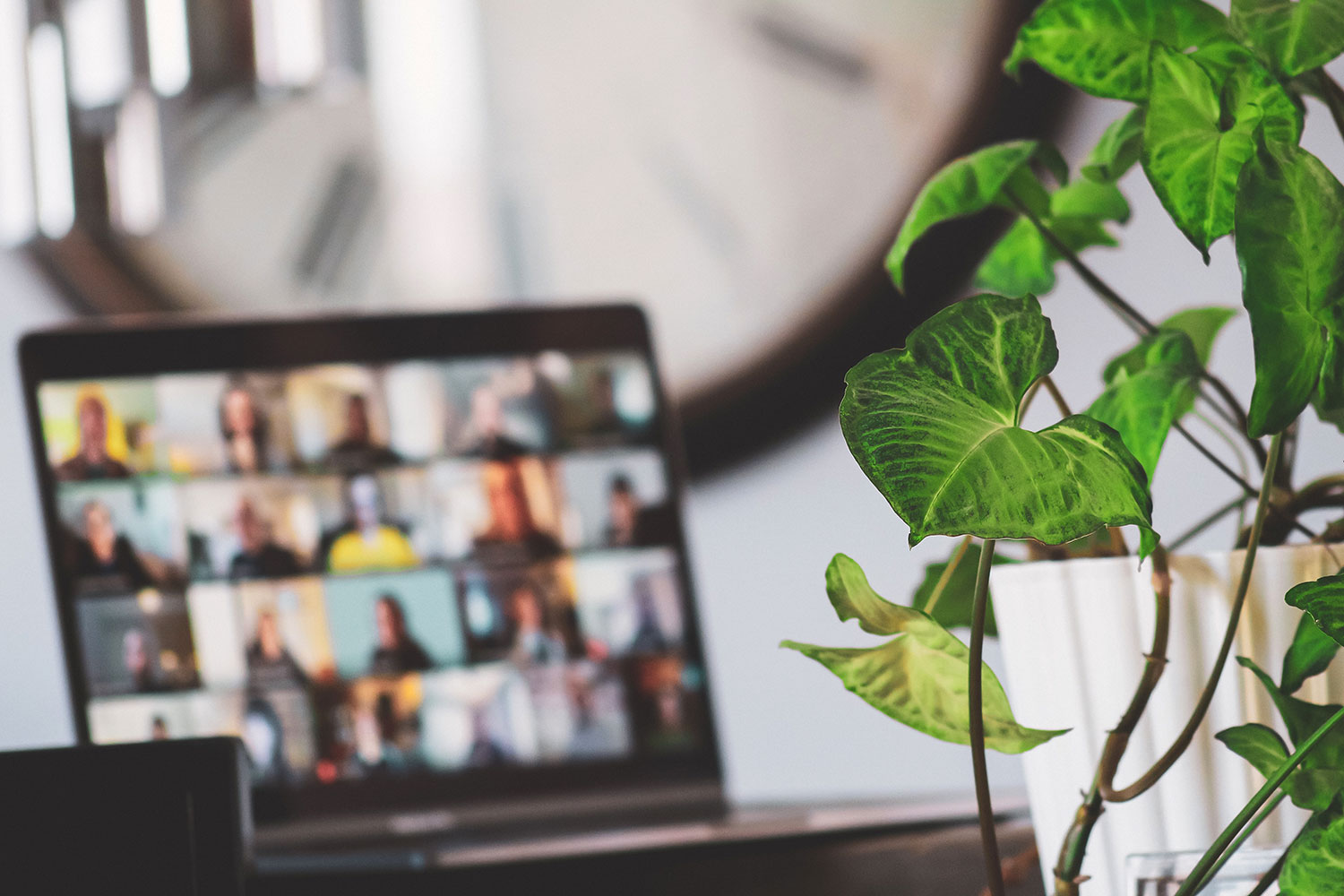 How did your relationship with clients change during this time? Did your team's clients respond well to a flexible/hybrid design model?
This varied depending on the client. I was working with Trevecca Nazarene University (TNU) on three on-going projects during the course of the pandemic. They were receptive to a hybrid delivery model and all except for one of the finish presentations was done digitally. This client had a level of trust in us, as the design team, that allowed them to feel comfortable not having the in-person presentations.
To address concerns with all clients we were always careful to review design intent and look at the materials thoroughly. Utilizing our technology was critical to convey design in this hybrid environment, and I worked to hone my skills in software, such as Enscape, and created my own interior renderings for use in presentation material. This allows for visual elements to be as realistic as possible, greatly cutting down on the possible disconnect with a remote meeting.
However, there were a few projects that my team and I finished before the start of the pandemic, and I can safely say they would have not had the same level of confidence. These clients would have needed to see the finishes in-person to fully visualize the design.
During the pandemic, there were some instances where we were not doing a full finish presentation, but clients still wanted to review physical samples. This proved a logistical challenge, but the solution was to have the manufacture send duplicate samples to our team and the client. We would then review them remotely and coordinate with the client to be sure we were looking at the same thing at the same time.
Most of the clients I work with are highly in favor of remote meetings for day-to-day correspondence. We don't lose travel time and the cost often associated with travel, and this is an attractive development for owners. Moving forward, it is likely that finish presentations will go back to being in-person, with clients opting for remote meetings in other instances.
How did COVID impact design decisions on your projects? Did clients adjust elements of design in response to the pandemic?
Interestingly, while I deal with both corporate office and education clients, the considerations for public spaces were the same for both sectors. In addition to increased social distancing protocols and surface considerations, clients in both are focusing on technology, making sure that employees and students have access to integrated tools that facilitate a hybrid remote and in the office/classroom workflow. The notable change here is this is not one computer lab or video conference room. Multiple spaces now have telecommunications capabilities to allow for remote meetings, and companies are supplying needed equipment to remote workers as well.
For workplaces, the increasing focus is on flexibility. The goal of the workplace is to provide employees what they need to function professionally at any given moment. Inherently, this looks different for different groups of people. Some will need to work from home because that is where they can focus. Others have husbands, children and dogs and need to leave home to be able to be able to be productive. Providing safe and flexible spaces at the office and the technology to allow for seamless remote work as needed has quickly become and will remain a priority within the corporate world.
Both sectors have had conversations about cleanabilty of spaces, divisibility and what the future looks like. Decisions and changes made at the start of the pandemic do not necessarily need to stay with us for the indefinite future. Offering safety and the flexibility to open back up is the balancing act that clients and designers face moving forward as we look to inspire connectivity within our learning and work environments.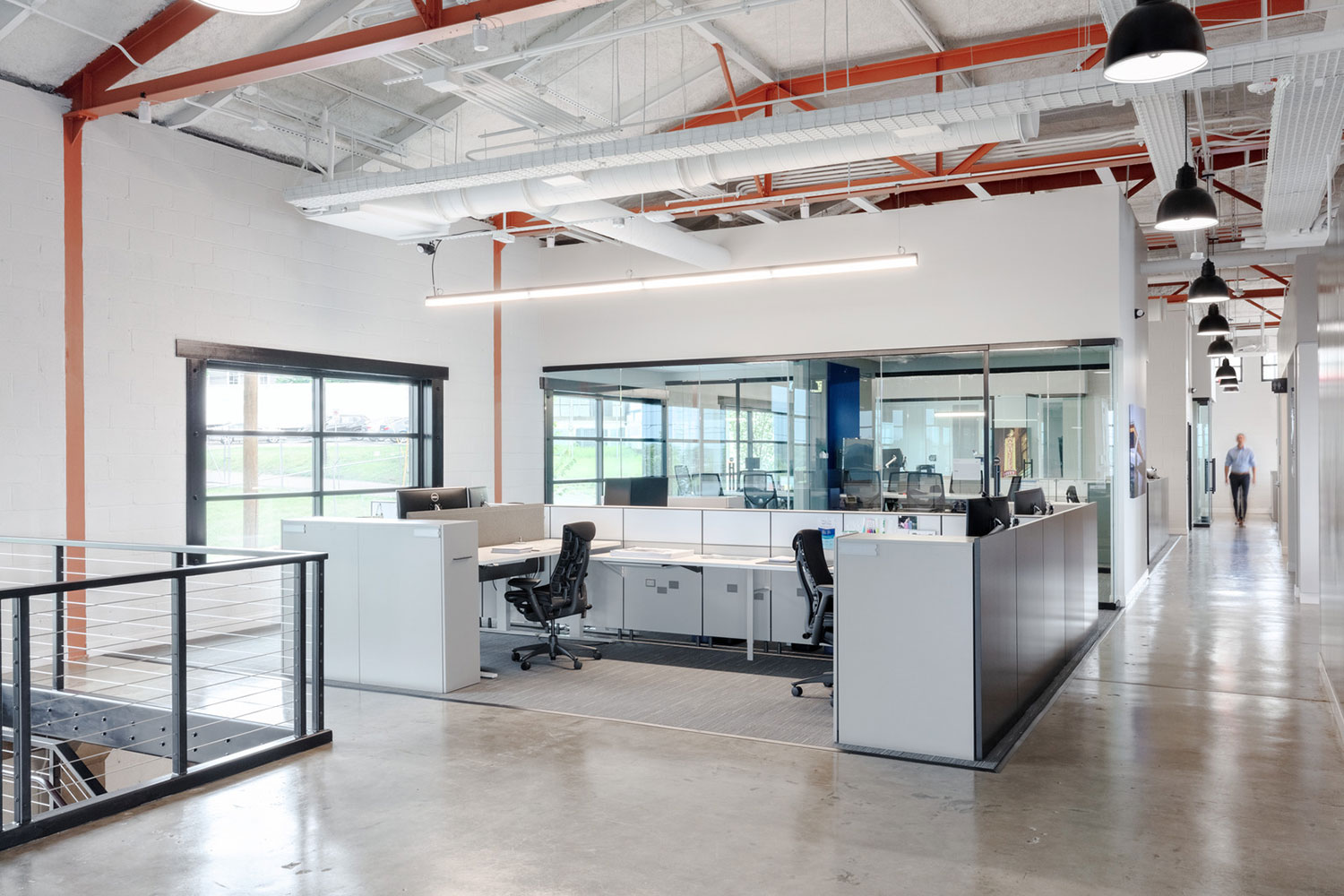 Is the office going away? Are we all going to be working from home in our PJ's for the near future?
The bottom line is the office will never look exactly like it did before COVID. To give some context, some of the shift away from open office concepts started before the pandemic, although COVID certainly did hasten this transition. Factors including noise and distraction, focus versus collaboration had called into question the desirability of an open-office layout. The trend was already evolving based on better education and increased knowledge of what an open office is actually like.
Because of this evolution, and the pandemic, my team was already seeing a desire for more private office spaces, and even if it was an open-office design, there seems to be an increased focus on heads-down working space that affords more privacy. One large impact of the pandemic is that it introduced the concept of remote work to many companies that before had not considered it a possibility.
From a future of work standpoint, we will continue to see a focus on public space and providing a variety of community spaces that allow for connectivity and flexibility. Many clients seem interested in allowing people to work when and where they need to work. In fact, studies have shown that with this dynamic work mentality workers are more engaged and more productive. This is a balancing act that allows for both remote and in office work. Spaces will need to adapt to embrace this.
The office of the near future will be the place you return to in some capacity to reconnect to the work that you are doing and your employer. Interior design choices moving forward will likely include the incorporation of branding and mission statements to inspire workers that now will come and go from the space more freely than before.
The biggest risk of the future plays off the strengths of a remote-hybrid workflow, and this is the potential for a loss of connection with coworkers. To counteract this, offices need to be designed in a manner that attracts people to them; they need to be spaces that employees actually want to go to and work in. The resulting combination of an effective hybrid workflow and interior design that promotes connection will bear the fruit of a more productive and engaged workforce.
To view ESa's featured corporate office projects, check out our Commercial + Office portfolio.