Employee Spotlight: Tara Myers
There are many members of the ESa team who have critical roles in making sure the firm is running as needed and delivering for our clients. Tara, serving as risk manager/principal, is one such team member who keeps us compliant and helps guide our project teams in matters related to contracts and insurance.
Read on to learn more about Tara, her unique position and why, 29 years on, ESa is still special to her.
What is your role at ESa and what does a typical day in the life look like?
For me there really has not been a typical day on the job since I started my career, and that is one of the things I love about what I do. In my current position as a principal and risk manager, my primary responsibilities are to manage the contracts for all of our projects, consult with our teams on anything related to professional liability, and assist with professional education opportunities. I also often consult on a number of other topics in the office through the lens of risk to the firm.
I interned at ESa for two years while in architecture school at the University of Cincinnati, (go Bearcats!), and was offered a full-time position at the firm after graduation. For my first 15 years at the firm, I was a design manager on commercial projects and then expanded to also working in the healthcare sector.
When the financial crisis of 2008 hit, I further transitioned into working on healthcare projects. Around that time, I also began to work more with master consultant agreements and developing master contracts for the firm. I had experience working on contracts for my own projects, but it was ESa principal Randel Forkum that first set me on the path to working on firm-wide agreements. He helped me grow my role by taking me to seminars and encouraging me to learn more about contracts.
My background in both commercial and healthcare design is an asset that helps me navigate contract and project challenges for various project types. Part of the risk manager and principal role is working with nearly everyone in the firm. This broad exposure is another aspect I love about this job as it always offers a varied slate of challenges and opportunities.
How did you come to love working with contracts?
My transition into contracts and the creation of this position was influenced by a multitude of factors. The initial motivation came during a leadership class at Belmont University after taking a Strengths Finder assessment. I strategized how to take the experience I had across design sectors and my growing interest in contracts and combine them into a role that suited my unique strengths.
One of the best pieces of advice I have received is to find your strengths and lean into them. I strongly believe in the power of embracing and building on strengths rather than focusing all of your energy on turning your weaknesses into strengths. Surrounding yourself with people whose strengths are your weaknesses is the key to a successful team.
But back to contracts, I think I gravitated towards working on contracts in part because my detail-oriented nature has helped me become skilled at navigating them and I love the dynamic problem solving I get to do with my teams. I enjoy helping to mediate and alleviate project stressors for others.
Finding ways to make a difference and providing value have always been key motivators for me. The reality is that this role of managing risk and working with contracts played to my strengths and has been an incredibly fulfilling experience. I find contracts to be an interesting challenge and have been able to meet a firm-wide need in a role that few other architects seem to like. Six years ago, I joined the AIA's Documents Committee and have found kindred spirits in other architects who help write all of the contracts for the AIA. This has enabled me to extend my outreach with contracts beyond just ESa to help the broader architecture, engineering and construction (AEC) industry.

What inspired you to chose architecture as a career?
It all started with my grandmother. As a single mother, supporting three kids, she went to night school to learn to draft and started her career on a drafting board in a government job. She worked her way up to be the supervisor of the engineering/drafting department at Dodge Scan in Cleveland, Ohio. She introduced me to design and her love for books, gardening and giving back to the community. Unfortunately, she passed away soon after I had started high school. After inheriting her drafting tools, I decided I wanted to learn to draft.
I was the only female in my high school drafting class, but I really enjoyed the course. I loved art/design and also did well in science and math. My father thought I should pursuing a career in technical drafting and my art teacher was pushing me in the direction of studying graphic design. But I really wanted something where I could stay on the college track and combine my love of art, drawing and education. I discovered architecture, and it seemed like the perfect fit.
Why ESa?
I interned at three other architecture firms while in college, including a large firm in Boston. I was not crazy about the multi-office corporate culture and was hesitant to work at another large firm. I then worked for a small firm on Martha's Vineyard where I was doing residential design. I loved the close-knit culture of that firm and started to think that I might want to work for a smaller firm after I graduated. When I finished my summer job on Martha's Vineyard, a friend recommended that I apply for my next co-op position at ESa.
I immediately fell in love with the city of Nashville, and the culture of ESa. The friendly, fun environment drew me in and the family culture made me feel like I belonged and had a place to grow and thrive. The people make the difference. All of the leadership mentored me in various aspects of the profession, in particular, Dick Miller. He showed me just how important and fulfilling community involvement could be. I am very grateful for his leadership and the values he has instilled in our firm.

ESa has a strong history and culture of giving back to the community and mentorship. I have been fortunate to be involved with and lead many community centered outreach efforts for the firm. My favorite initiatives have been education and mentorship-focused, including my work with the ACE (architecture, construction and engineering) Mentor Program, the Academies of Nashville, and Urban Plan, a ULI program that I am currently co-chairing. All of these programs revolve around introducing students to architecture and community design with a goal to bring young and diverse talent into our industry. Increasing access to the fields of architecture, engineering and development can open a door for the next generation of young people whose contributions will shape our industry and the world.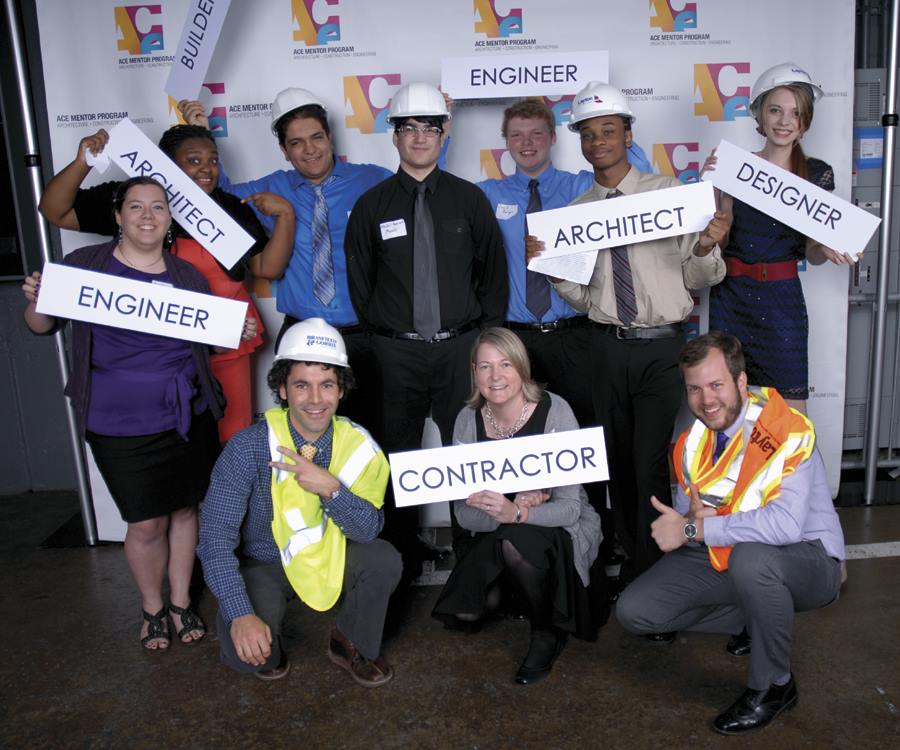 Rapid Fire Questions
Q) Cats or Dogs?
A) We have a cat named Bella. While I grew up with and love dogs, cats are just easier.
Q) Any Architectural Heroes?
A) In college there were a few designers who I looked up to and admired their work, including Tadao Ando and Luis Barragan. Now the heroes I look up to the most are servant leaders like Dick Miller.
Q) Favorite Movie of All Time
A) Momma Mia, I sing along to the entire thing, start to finish!
Q) What was your first job?
A) I worked as a camp counselor at Camp Sunshine, a summer day-camp for three to six-year-olds.
Q) Any secret talents?
A) This one was hard, but I landed on Wordle. I do Wordle every morning along with Sudoku and Crossword while I am on the treadmill. I work out my brain while I get in my steps. I also have a talent for growing blueberries and turning them into jam.
Q) What is your superpower?
A) I would say that my superpower could either be reading the room or organizing it.
Q) Favorite Books?
A) I read a lot of historical fiction; I love reading about strong women in history. They inspire me to want to be a better person as well as travel around the world to see the real-world sites referenced in the many books I have read.
Q) How would you describe your job to a room full of kindergarteners?
A) I joke in the office that I do all of the stuff other people in the office really do not want to do! Kidding aside, this was a much easier description when I was designing buildings. As I can't imagine how to describe risk management and contracts to kindergarteners, I think I would tell them that I work with the people who want to build a building and the people they hire to design and build it, to help them all figure out how they are going to play nicely with each other.
Q) Coffee or Tea?
A) Tea definitely, chai latte is my favorite!
Q) Any skills you think everyone should learn?
A) Balancing a checkbook. Well maybe not literally, but learning the basics of financial literacy. I also think that everyone should learn the art of active listening.
Q) Favorite project you have worked on?
A) My favorite project was probably a new home for the non-profit group, The Next Door. It was one of those dream projects where all parties involved, from the owner's leadership team to the consultants, contractor and subs, were incredible to work with. If a problem came up, we got around the table and fixed it without finger pointing. It was also amazing to see how grateful the end users were when they moved into the facility.
Q) What is front and center on your bucket list?
A) Mostly travel. There are a lot of places I want to visit, but I would say that Ireland, Greece, Norway and Iceland are at the top of the list. I am drawn to places with beautiful nature and landscapes as well as historic architecture. I would also like to visit Ireland to view the origin of my name, the Hill of Tara.
Q) What are some items on your desk you cannot live without?
A) First, I would have to say my candy dish – chocolate is always a good idea. Plus, it gives people a happy reason to drop by my desk. Secondly, my vase of metal art flowers; they are colorful and make me smile. And last but not certainly not least, photos of my family.