ESa-designed Curb Victory Hall named a Tennessee's Best Award winner by the Tennessee Housing Development Agency (THDA)
Curb Victory Hall has been named a Tennessee's Best Award winner by the Tennessee Housing Development Agency (THDA).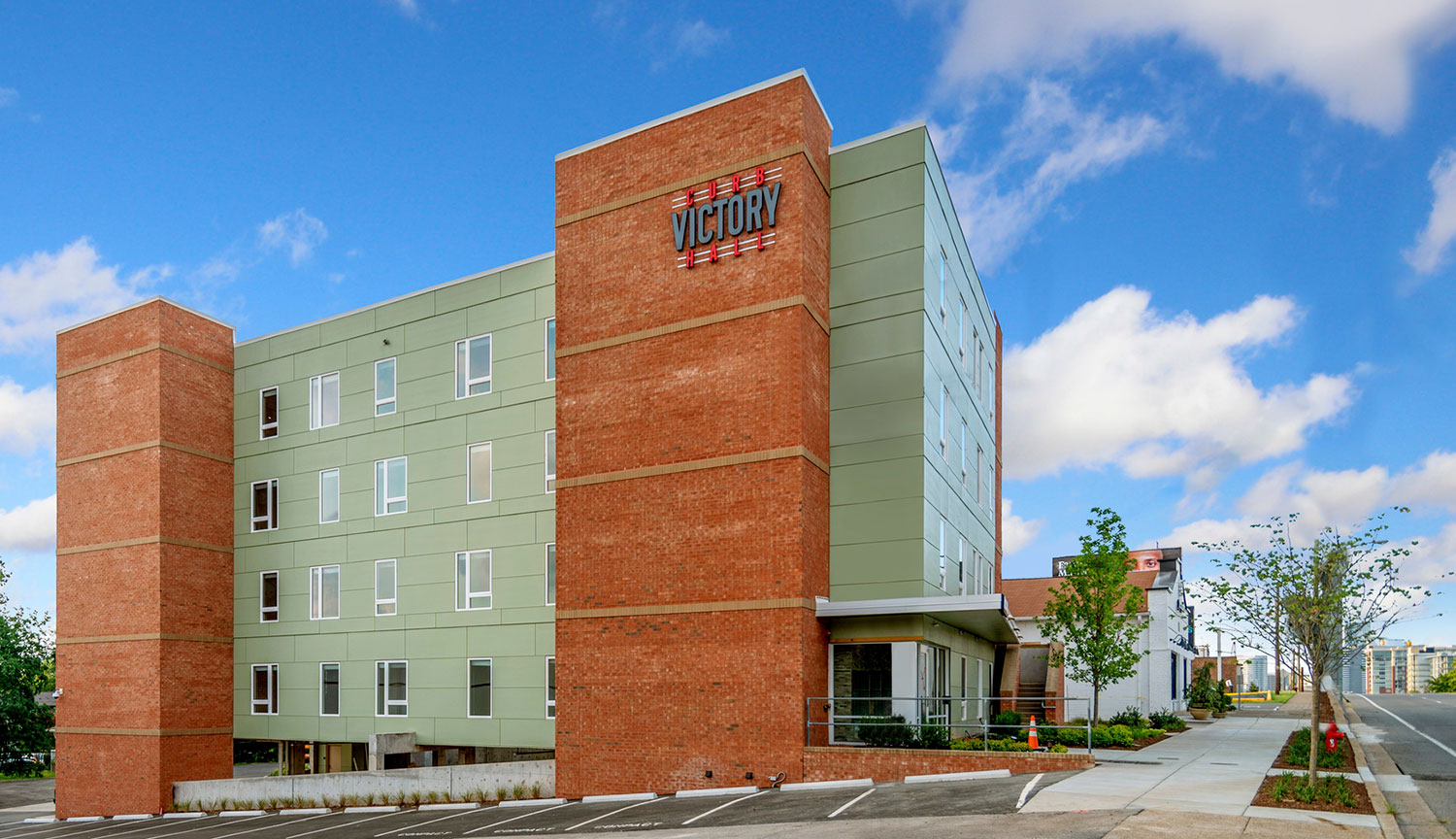 The MDHA-managed property received the Regional Impact Award, which is given to a person, organization or project that has demonstrated a dedication to affordable housing and has created an enduring partnership with THDA through the usage of its programs.
Located on a previously underutilized parking lot, Curb Victory Hall features 37 affordable apartments for Veterans experiencing homelessness and one market-rate unit for an on-site service provider. A mix of efficiencies, compact studios and one-and two-bedroom units rise above one-level concrete podium parking. The design of the parking garage leverages the existing grade to disappear from view on the street-level. It is located on 12th Avenue South next to Operation Stand Down Tennessee (OSDTN), which offers wraparound services such as benefits and employment assistance to the Veterans who call Curb Victory Hall home. The development's exterior façade is comprised of fiber cement rain-screen cladding, anchored by monumental brick towers and unified by the apartments' staggered window patterning. There are two separate entry lobbies, one on 12th Avenue and the other on the parking garage level.
Thirty-seven Veterans Affairs Supportive Housing (VASH) vouchers, which are funded by the U.S. Department of Housing and Urban Development (HUD), are being utilized at Curb Victory Hall. The vouchers are administered by MDHA in partnership with Tennessee Valley Healthcare System – Veterans Affairs (TVHS-VA), which assists MDHA with identifying residents. MDHA also manages the development and has a full-time employee at the property.
Curb Victory Hall is the result of a unique public/private partnership involving MDHA, Giarratana LLC, OSDTN, THDA, music industry executive and philanthropist Mike Curb, HUD, TVHS-VA and the Mayor's Office.
For more information on the Curb Victory Hall award – Metropolitan Development and Housing Agency | Curb Victory Hall Receives State Award