Carilion Roanoke Memorial Hospital – Campus Expansion
The construction of Carilion Clinic's new 400,000-square-foot Crystal Spring Tower is coming to life in Roanoke, Va.
The Crystal Spring Tower Cardiovascular Institute consolidates formerly fragmented cardiology services into a new 10-story tower with a dedicated entrance lobby, support services, cardiac/vascular surgery, central sterile, cath/EP lab spaces and pre/post procedural beds. It contains 76 inpatient beds, expanded dietary services and two underground parking levels accommodating 150 vehicles. The campus is engaged in a teaching hospital partnership with Virginia Tech.
The design accommodates residents, fellows and nursing staff within clinical programs. Transitional elevators allow the new tower floor heights to meet current height standards, while seamlessly connecting to the lower floor heights of the South Pavilion without the need for ramps. The new tower is connected to the existing hospital via a two-level connector on the west edge of the existing South Pavilion's sixth floor, while a prominent connector over Jefferson Street connects to the existing behavioral health hospital and new parking garage. The tower is designed for expansion of up to four additional floors.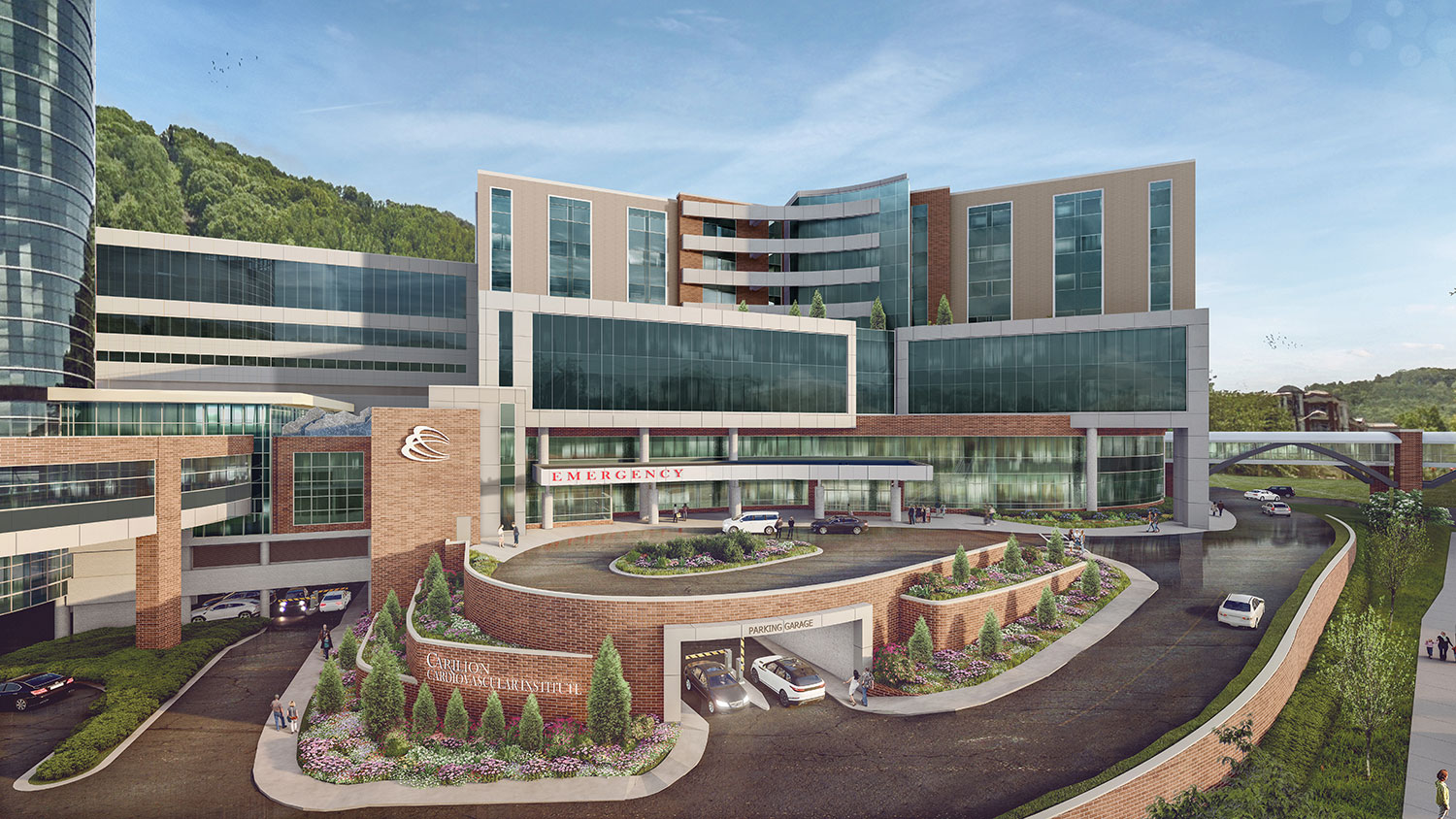 The design also involves the expansion of emergency/trauma services. It features a new patient walk-in entrance, ambulance entrance, helipad on roof for direct trauma admissions, entrance lobby, patient triage and ED registration space. This is in addition to trauma rooms, exam/treatment rooms and support space for patients, families, physicians and staff.
The new cardiovascular institute is inspired by the existing material palette found on campus and features a red brick base, double height curved glass façade and metal system.
Our project teaming partners include Balzer & Associates (Civil Engineer and local architectural partner); Enfinity Engineering (MEP); Structural Design Group (Structural); and Smith Seckman Reid (IT). Additional project team members include Robins & Morton and Branch Builds, joint-venture construction team; Inman Foodservices Group; Andrew Carroll Collignon; Covalus; Fire Protection Associates; Hummer Construction Resources; Lomonaco & Pitts Architects; and Signcraft.