Employee Spotlight: McLean Pillon
It is no secret that ESa would not be able to properly function without our dedicated marketing/communication team. Meet, McLean Pillon, marketing coordinator–and fun fact, the face behind the content on our ESa blog!
Name: McLean Pillon
Current Title: Marketing Coordinator
Time at ESa: 5 years at ESa

A Nashville native, McLean joined ESa straight out of college and has been here ever since. Since joining, he has worn many hats, a jack of all trades, some might say. Keep reading to learn about McLean's diverse experience from a lead lifeguard at a country club to a knowledgeable marketing professional and world traveler.
Q. What does your job entail?
A. With my current (new) role, I lead, develop and design proposal/qualification responses, create and submit award entries, write and conduct interviews for the news/blog section of the website. Lately, I am working on developing my skills within WordPress, collaborating with our graphic design team and  laying out proposals via Adobe InDesign and posting via the firm's social media accounts. There are some other back-end content and data management that feeds into all the other aspects of my job. I frequently run reports in Deltek and use other software to gather and update information needed for business development and public facing marketing efforts.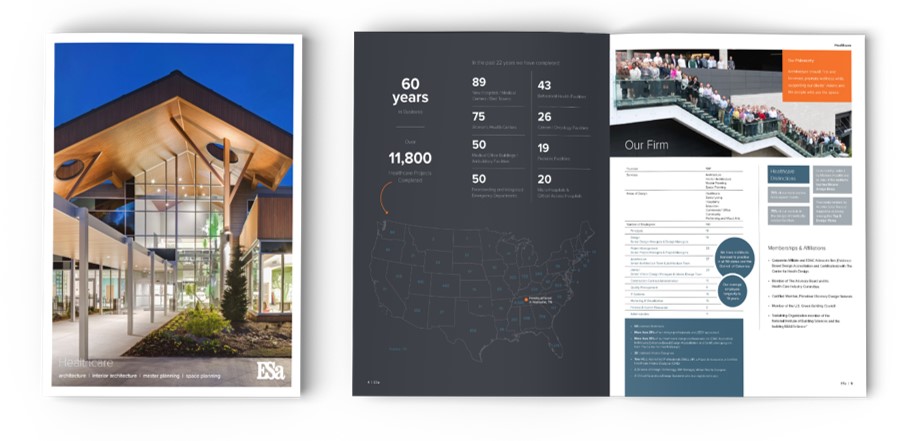 Q. What is working at ESa marketing like?
A. Incredibly dynamic, no two days are the same and new challenges often grow into great opportunities to win new work, grow professional relationships and learn. Marketing and business development in A/E/C can be a world of tight-deadlines and litigious responses, so at the end of the day I am thankful to have a team that I can rely on to get through the most difficult of tasks. Just like with other groups at ESa, we are constantly learning, growing and helping one another to get the work done and deliver for our clients.
I would also be remiss if I did not mention the fantastic partners we work with on the project side. Working with principals and others on the architecture and interior design side is critical for the development of proposals, award entries and marketing stories that are relevant and engaging. During my nearly five years at ESa, I have worked with almost every principal on marketing efforts and have been a part of initiatives for all of our design sectors.
I enjoy getting to highlight the firm and our achievements in some other creative ways — more recently working on interviews for the 60th anniversary, in addition to working on stories for the ESa blog.
Q. Who inspired you to pursue the career you have today?
A. I would say my father. His entire career has centered on communications, starting with producing the news for local Nashville stations to working as the Communications Director at Belmont University. I have always looked-up to my father, he is my hero. Growing up, I was inspired by the dynamic workload of the marketing/communications world. The number of interesting projects he worked on, which included two presidential debates, and the stories he told certainly made me interested to be a part of the communications/marketing profession.
Q. What is the best advice you can give to someone who just started their career?
A. Do not be afraid to ask questions, about not only the position you are stepping into, but the entire approach of the department. Questioning things is an important step to not only learn how things work, but to get a deeper understanding of how your managers and senior leaders think. When I came to work at ESa I was fresh out of college, and while I had held summer jobs and internships before, this was my first venture into corporate America and the A/E/C industry – so most of that first year was all question asking!
I would also say that boundaries are important. Taking full, uninterrupted advantage of PTO is necessary to avoid burnout. Many young professionals suffer from a need to overachieve, and while performance is important and trying your best is a must, setting boundaries allows for a healthy work-life balance that I believe ultimately makes you a happier and more productive team member.
Q. What is the most exciting thing you are working on right now?
A. I am currently working on several proposal responses for our education sector. This is one of the major recent changes with my role. I will be working more on the proposal side of marketing and business development. In light of working more on proposals, I have been taking InDesign classes and learning from the graphic designers within our department. This has been a rewarding challenge, and while responses can certainly be stressful, there is little that compares to submitting that final product and most importantly, helping win new work for the firm.
Q. What's the most unique part about working here?
A. I can say that the support the firm gives to its team members is unique. I have many peers who work at other larger firms (some in and some out of the A/E/C field) and COVID showed the true colors of corporate leadership. At ESa we were well informed, supported, followed the CDC's best practices and kept each other safe while still being effective. ESa's approach here was no surprise to me, the firm and team leaders, even before the pandemic, took extra care to offer levels of understanding and support that is rare in a corporate setting.
Q. What has been your favorite project at ESa?
A. You're on it right now! The establishment of the news/blog section of the website was something that I had wanted to create for a while and with the advent of our new marketing team, resources were allocated for this. I have been interviewing, transcribing and writing all the employee spotlight pieces (not this one of course) and it has been so great to sit down and get a detailed view of people's passions and then get to share that with you all.
ESa truly has so many wonderful, creative and motivated professionals – from all sectors including the practice and support side. I look forward to getting to shine a well-deserved spotlight on our many ESa family stars – stay tuned for more.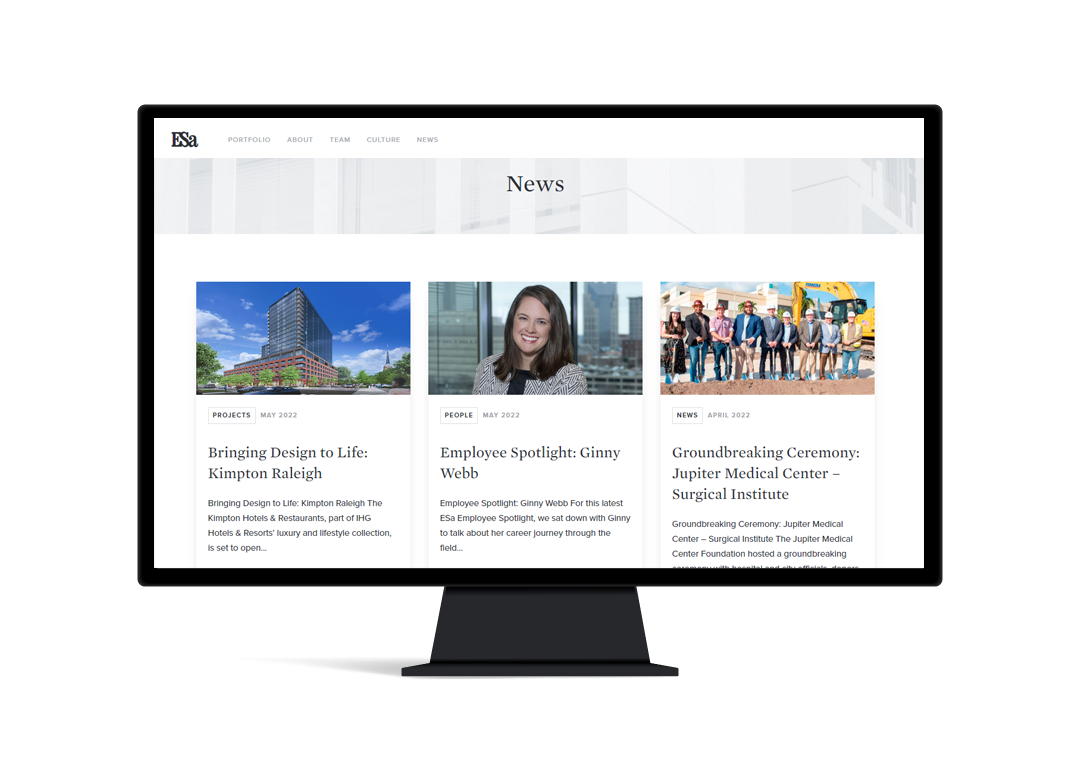 Q. What was your first job?
A. My very first job was as a lifeguard at Ravenwood Country Club in Donelson, TN. My family and I spent summers going to the pool there since I was at least four years old. I worked there for several years starting at age 15 until right before I graduated college. I worked my way up to becoming the head lifeguard and swim team coach holding those positions for two/three years.
Unfortunately, the club closed down and is now part of the green-way-hiking trail. Even though it is gone, those summers spent working and coaching there hold a special place in my heart. It taught me the value of hard work and sunscreen!
Q. Favorite city to visit?
A. My favorite city to visit, and one I find myself wanting to go back to, is Seoul – South Korea. In 2019, right before COVID struck, I was able to take a trip there with a good friend of mine from college and fell in love with the city. We stayed in a university section of the city, Hongdae, and were able to enjoy the nightlife and many historic sites.
From the moment I landed in one of the most beautiful airports in the world, Incheon– I was greeted with a feeling of positivity for the future. I am not sure what it was, could have been the robots roaming around paired with the stunning modern architecture, but I felt like I had stepped into the future – it was great, and I would recommend Korea to any would-be world traveler! My pro-advice, try all the food you can (especially street food) and drink a healthy amount of soju.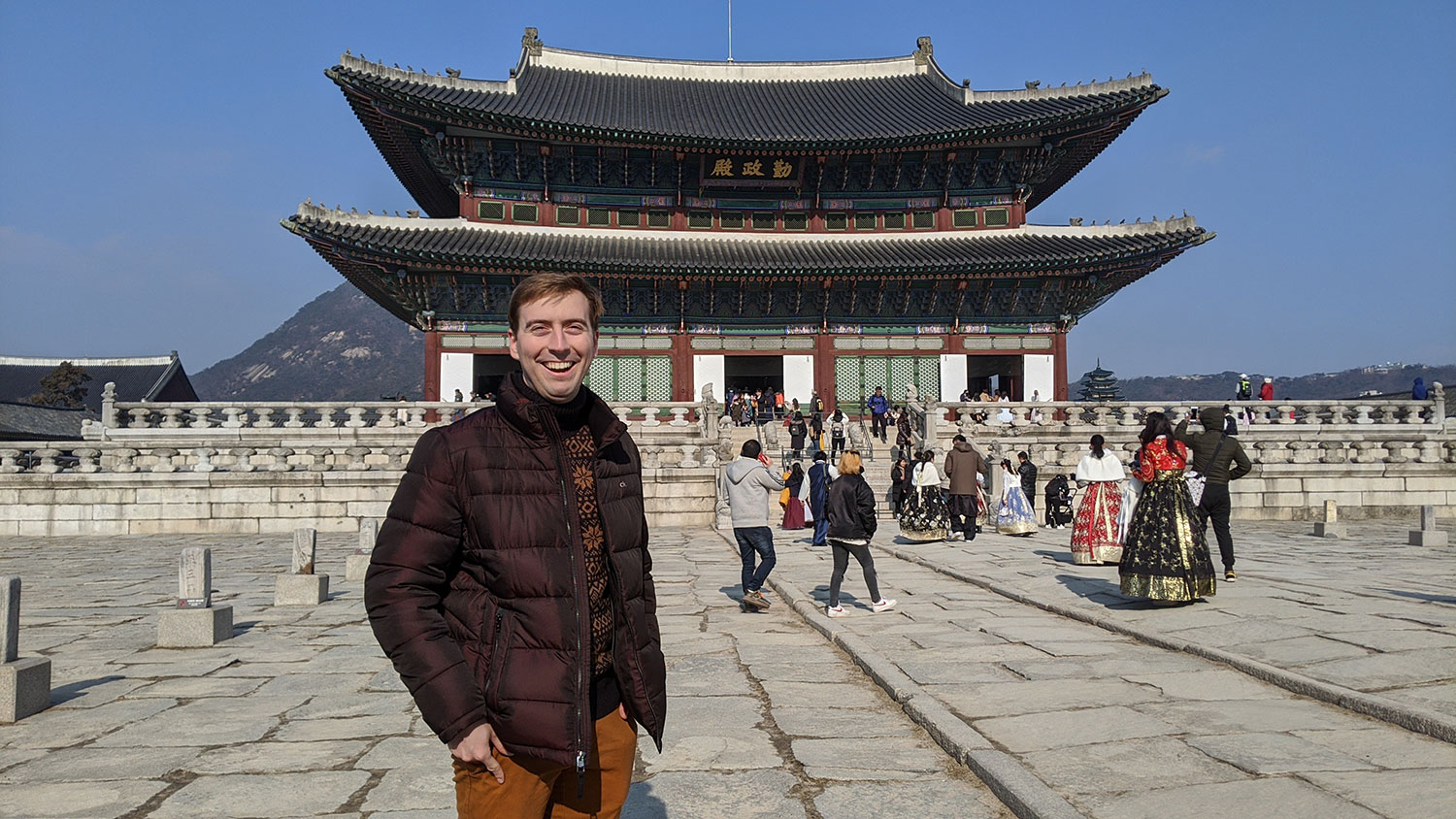 Q. Cocktail of choice
A. Can't go wrong with an old-fashioned, Bulleit is my go-to choice.
Q. Favorite sports team
A. I love hockey – in fact, it is really the only sport I enjoy to watch/follow (on TV or in person). My team of choice is the Montreal Canadiens. This is a bit of a family draw since my family is heavily French-Canadian (my grandfather's first language was French) so you could say my love of hockey is a Pillon trait.
Q. Describe ESa in three words.
Dependable | Supportive | Family